It may seem strange, but we feel our toilets do have an inner beauty. Maybe we're looking through our engineers' eyes, but it's there. You can see it. It's in our high performance flushing systems. Our specially designed trapways. It's everywhere.

People have always said, "It's what's inside that counts." Well they couldn't be more right. Take a look. You'll see it.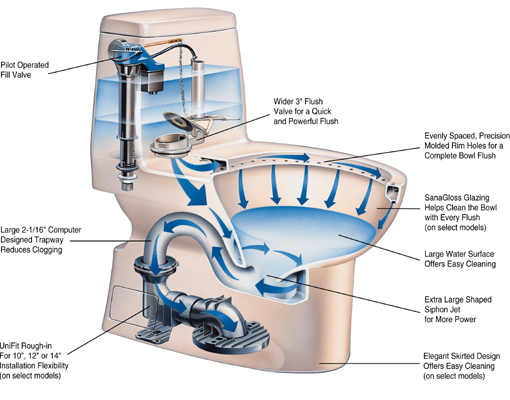 Clean Finish

Innovation. It's what keeps us center stage. And from it comes our latest advancement – SanaGlossTM. This new ceramic glaze can help clean your toilet's surface with every flush. It reduces the growth of bacteria and molds and also helps prevent staining, scaling, and lime buildup. The same industry innovator that brought you the quiet power of TOTO's G-Max flushing system has created this state-of-the-art, high-gloss finish. The result – a cleaner,more hygienic bathroom experience.

SanaGlossTM seals the bowl with an ionized barrier, creating a super-smooth surface. This non-porous surface helps prevent particles from adhering to ceramic, while a catalyzed ion barrier actually repels particles away. The combination of these outstanding features has yielded a ceramic finish that will completely change the foundation of conventional glazing.

SanaGlossTM is featured on two of TOTO's most prominent toilets — the Vespin and Carlyle. Add the G-Max flushing system, and you'll discover one of the most powerful, cleanest flushing toilets on the market.